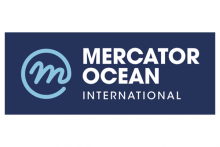 About the Organisation
In routine or in real time, on a global or regional scale, both on the surface and beneath it, Mercator Ocean describes, analyses and forecasts the state of the ocean by developing the "Mercator System" for ocean analysis and forecasting and maintaining it in an operational condition.
Mercator Ocean International is a non-profit organisation providing ocean science-based services of general interest focused on the conservation and the sustainable use of the ocean and marine resources. It is owned by ten major players in the field of operational oceanography: CNR, CNRS, Ifremer, IRD, Météo-France, SHOM, CMCC, MetOffice, NERSC, and Puertos del Estado.
Role in CoCO2
Mercator Ocean produces global and regional assimilative ocean carbon (biogeochemical) simulations in the CMEMS framework. In WP2 Prior and ancillary information Mercator Ocean will contribute  to the improvement of the air/sea CO2 fluxes that are delivered today as part of the Copernicus Marine service so that on the long run this can be provided to a future Copernicus CO2 monitoring service.