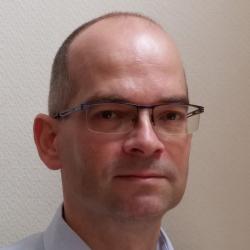 Marc Bocquet
Project Member
Marc Bocquet has a PhD in theoretical physics from Ecole Polytechnique, and a Habilitation from Paris Sorbonne University.
He has been a postdoc fellow in the physics departments of the University of Warwick and of the University of Oxford.
He is currently professor at École des Ponts ParisTech and deputy director of the atmospheric environment research and
teaching centre (CEREA). He works in the field of data assimilation, machine learning and inverse problems in the
geosciences, with applications to atmospheric chemistry as well as in environmental statistics. He develops new
mathematical methods to better estimate the state of the atmosphere and the ocean, and their constituents, using large
sets of observations and complex models. He is a Fellow of the European Centre for Medium-Range Weather Forecasts, and
an Editor for the Quarterly Journal of the Royal Meteorological Society, for Foundation of Data Science and for
Frontiers in Applied Mathematics and Statistics.
WP3 Global Modelling and data assimilation

WP4 Local and regional modelling and data assimilation

WP6 Integration, testing, application and initial validation of prototype systems