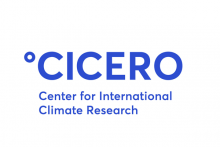 About the Organisation
CICERO Center for International Climate Research is a leading interdisciplinary climate research institute in the Nordics, with departments on the climate sciences, climate economics, climate policy and climate communication. Researchers undertake projects funded primarily by the EU Framework Programmes and the Research Council of Norway, with smaller funding from Government ministries and other national and international programmes or organisations. CICERO researchers regularly publish in top academic journals in a range of fields (Science, Nature, etc) and have the highest publication ranking amongst the Norwegian environmental institutes. Communication, stakeholder management and process facilitation are of core importance to CICERO from its founding, with most CICERO projects involving dedicated communication and dissemination activities. CICERO participates in a broad network of national and international research communities: IPCC assessment reports, global change programmes and EU research.
Role in CoCO2
CICERO will contribute to WP2 Prior and ancillary information and WP8 User engagement, with most activities based on CICERO's expertise on carbon dioxide emission estimates, short-term projections, comparisons, and graphical presentation.